Perfect for Kids after school activities
Taekwondo for kids in Brighton
Fitness, discipline, development and martial arts fun!
For ages 4 – 14. Free parking. Two free trial lessons with no sign up required.
Taekwondo has all the benefits of a traditional martial art such as improved discipline and respect while helping the modern child become healthier via our fitness and flexibility training.
Our Kids Taekwondo Classes are fun and we teach each student the values of self-discipline and teamwork in a safe and controlled environment.
Free on-site parking.
Try something new in 2020.
Taekwondo in Brighton
Why Kids Taekwondo?
Kids are very impressionable at this age and need solid foundations guiding them into adulthood.
We teach the basics of self-discipline and teamwork, and how it can carry through to a more positive life in and after primary and secondary school.
Taekwondo helps to improve:
Overall fitness and health
Stronger and flexible muscles
Self-discipline
Respect and etiquette
Teamwork
How to overcome bullying
Our grading syllabus is designed to help children improve their mental and physical capabilities, which in turn gives them a boost in their mental and physical well-being.
And on top of all that -Taekwondo is super fun!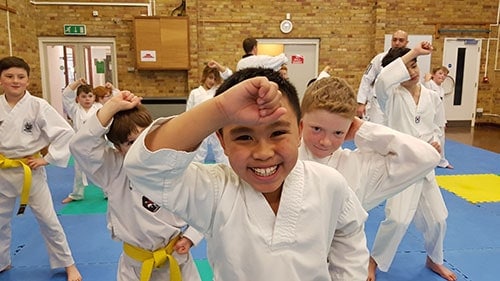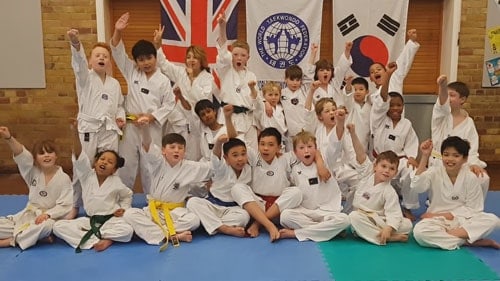 The No.1 After School Kids Activity
Why is Taekwondo a great after school kids activity?
At DAN Taekwondo School Brighton, our classes are jam-packed full of energy releasing activities. Check out the image and text grid below to have a taste of what we offer.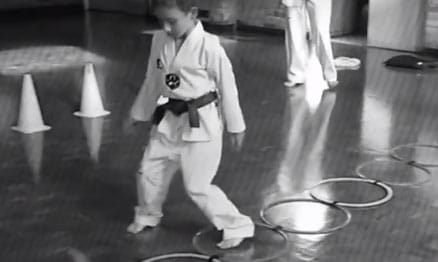 Game Based Fitness Activities
Time to burn some of that excess energy from the day. At lot of our fitness activities are games and competition based. This helps encourage a determination to their best as well as how to work with a team.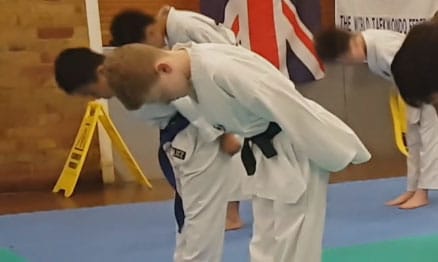 Respect. Always.
We teach our student the Taekwondo Tenants every single class. Each class we ask the students to give an example of how they have performed one of the Tenants since the last class. Courtesy, Integrity, Self-Control, Perseverance, Indomitable Spirit.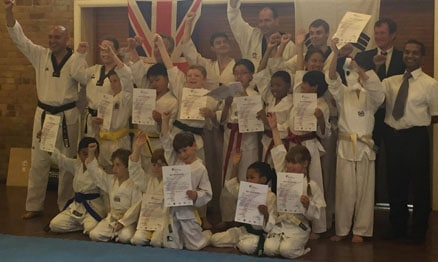 Belts & Grading
Our grading system follows the official British Taekwondo system. This helps the students to grow and reach their potential by understanding that they have to work hard to be rewarded.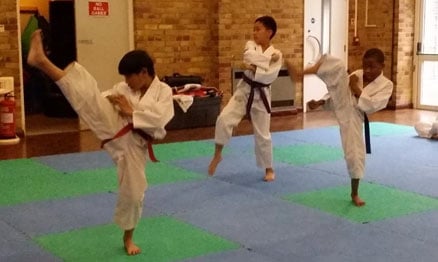 Traditional Taekwondo
Poomsae (patterns) is an integral part of the syllabus. It helps each student develop their coordination and memory skills.
Sparring (Kurugi)
Olympic Style – This is the full contact sport part of the martial art. Our students are fully covered with protective gear and equipment. The training is specialised to the individual depending on height and ability (it's also one of the student's favourite parts of the class!) Self-discipline and control is an important lesson taught here.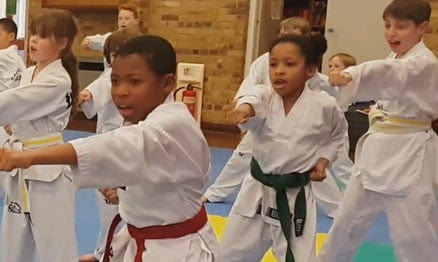 Self-defence & Self-control
Often kids come to our school to learn how to defend themselves against bullies. We teach them that mental strength is often more important than physical defence, but that they can defend themselves safely if needed.
View our Reviews
The Best Taekwondo School in Brighton
It's rare to find a school that focuses on whole body well being and fitness as well as the martial art itself. The classes bring in elements of yoga in order to build core strength. The kids classes also mix in a fun element with games based around speed and agility.
Fully qualified
Instructors and Coaches
Our instructors (two males and one female) have a combined career in Taekwondo of over 30+ years. This includes competing in Poomsae (Patterns) and Kyrugi (Sparring) at National and International levels, as well as attending several of the top seminars lead by Masters and Grand Masters across the UK.